HISTORIQUE / HISTORIC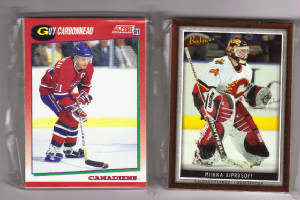 MELANGE DE 25 CARTES DE HOCKEY EMIS ENTRE 1990 ET 2009.NOTRE MEILLEUR VENDEUR - TRÈS POPULAIRE AVEC LES JEUNES
MIX FEATURING 25 DIFFERENT HOCKEY CARDS ISSUED BETWEEN 1990 AND 2009. VERY POPULAR WITH YOUNGSTERS.
2002 - 2009
MELANGE DE 12 CARTES DE HOCKEY EMIS DEPUIS 2002.
MIX FEATURING 12 HOCKEY CARDS ISSUED SINCE 2002.
SUR DEMANDE. NOUS POUVONS FAIRE DES PAQUETS CADEAU POUR VOTRE TOURNOI, MAHG, "PARTY"....
SUR QUOTATION.
CUSTOM PACKS. WE CAN PREPARE GIFT PACKS FOR YOUR TOURNAMENT, PARTY OR ANY EVENT ....
WILL QUOTE.
PROMOTIONS
NOUS POUVONS INSEREZ DES COUPONS,
AVIS ET PLUS DANS LES PAQUETS.
WE CAN INSERT PROMOTIONAL COUPONS,
NOTICES AND MORE IN THE CARD PACKS.